August 23rd, 2013 by Adam Voiland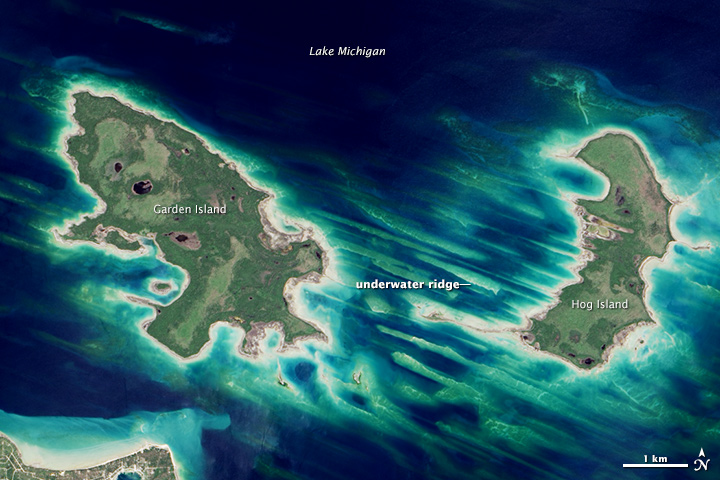 A special congratulations to Cyndy Hunting for being our first reader to work out that the August puzzler showed Garden and Hog islands in northern Lake Michigan. After 19 puzzlers, this was the first time the correct answer came in as a comment on our Facebook page. Just a few hours after Cyndy nailed the location on Facebook, CEM posted the correct answer on our Earth Matters blog.
Meantime, Shawn O and Daniel Bailey were putting forward thoughtful theories about the geological processes that shaped the islands rather than simply worrying about the location. As they suggested, a combination of glacial scouring and rising water levels likely formed the distinctive ridges while the Laurentide ice sheet was retreating and forming Lake Michigan. You can read our Image of the Day caption here.  And check out this interesting effort to make detailed maps of the lake floor of an area near Hog Island.
August 19th, 2013 by Adam Voiland
Each month, Earth Observatory offers up a puzzling satellite image here on Earth Matters. The nineteenth puzzler is above. Your challenge is to use the comments section to tell us what part of the world we are looking at, when the image was acquired, and why the scene is interesting.
How to answer. Your answer can be a few words or several paragraphs. (Try to keep it shorter than 300 words). You might simply tell us what part of the world an image shows. Or you can dig deeper and explain what satellite and instrument produced the image, what spectral bands were used to create it, or what is compelling about some obscure speck in the far corner of an image. If you think something is interesting or noteworthy, tell us about it.
The prize. We can't offer prize money for being the first to respond or for digging up the most interesting kernels of information. But, we can promise you credit and glory (well, maybe just credit). Roughly one week after a puzzler image appears on this blog, we will post an annotated and captioned version as our Image of the Day. In the credits, we'll acknowledge the person who was first to correctly ID the image. We'll also recognize people who offer the most interesting tidbits of information. Please include your preferred name or alias with your comment. If you work for an institution that you want us to recognize, please mention that as well.
Recent winners. If you've won the puzzler in the last few months, please sit on your hands for at least a few days to give others a chance to play.
August 9th, 2013 by hriebeek
Yesterday's Image of the Day — Ocean Revealed — elicited an interesting response from Norman Kuring, a NASA oceanographer who frequently contributes to the Earth Observatory. He notes:
"There have indeed been a number of studies that exploit sunglint for ocean research since Paul Scully-Power made his statement. However, I disagree with the follow-on sentence that, "his observation holds true for satellite observations today." While sunglint does reveal some information about the ocean beneath, for visible radiometry sensors it usually obscures more than it reveals."
"We in the ocean-color community often bemoan the fact that the MODIS instruments and VIIRS do not tilt to avoid the worst of the glint field. SeaWiFS, which was primarily an ocean mission, tilted, and the upcoming ocean radiometer on PACE is also planned to be tiltable to avoid the worst of the glint."
Good point, Norman. Sunglint hides the telltale shades of blue and green that point to phytoplankton growth in the ocean's surface waters. Here's a good example, originally published on the Earth Observatory in 2007.
Notice how the bright sunglint obscures the color on the top and right side of the image. (NASA's Ocean Color web site provides another good example with a more detailed description.) It's no wonder that oceanographers like Norman cringe at the thought of sunglint in ocean images.
August 7th, 2013 by Mike Carlowicz
Wildfires follow a simple but dangerous equation: Hotter, dryer conditions + more people in the world = a greater likelihood of ferocious wildfires threatening lives and property.
Fires in the western United States are burning earlier, longer and with more intensity, as shown by a decades-long record from ground surveys and NASA satellites. How much of this is due to climate change? And how do scientists see this trend developing in the coming decades, as temperatures rise, seasons shift, and precipitation patterns change?
Join researchers online at 1 p.m. EDT (10 a.m. PDT) on Friday, Aug. 9, for a NASA Google+ Hangout that will explore these questions. The Hangout will feature:
Doug Morton, research scientist at NASA's Goddard Space Flight Center
Bill Patzert, research scientist at NASA's Jet Propulsion Laboratory
Elizabeth Reinhardt, national program leader for fire research, research and development, Office of the Climate Change Advisor, U.S. Forest Service
The panelists will take questions from the press and the public during the Hangout. Submit questions on Google+, YouTube, Twitter, Facebook or other social media channels in advance and during the event using the hashtag #NASAFire. The URL for the hangout is https://plus.google.com/events/c6qkg3u1bbgvc81smsrqb84okcc
You can also find some background and imagery on wildfires here on the Earth Observatory.
+ World of Change: Burn Recovery in Yellowstone
+ Aerosols: Tiny Particles, Big Impact
+ Finding a Fire Cloud from Space
Comments Off on Blazing Hangout
August 5th, 2013 by Adam Voiland
NASA astronaut Karen Nyberg took this photograph of moonrise and sunrise over Earth's limb on August 4, 2013. In a tweet, Nyberg noted that she also saw Jupiter and Mercury as she looked out from the International Space Station, but the glare of the Sun's light hid them in her photo.
When astronomer and Slate blogger Phil Plait fired up the image processing software on his computer down on Earth, he enhanced the brightness on Nyberg's photo so that Jupiter and Mercury show up quite nicely. (See the enhanced image below.) Read more about the remarkable photograph on the Bad Astronomy blog.
Follow Nyberg's Twitter and Pinterst feeds at:
https://twitter.com/AstroKarenN
http://pinterest.com/knyberg/pins/