May 24th, 2013 by Adam Voiland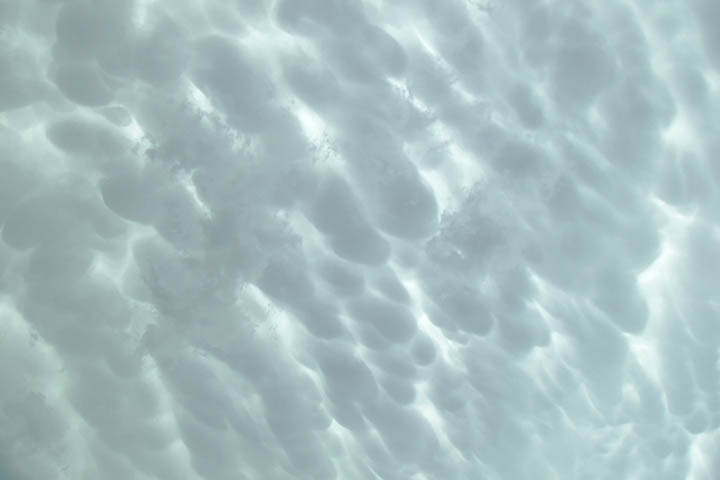 Earth Observatory reader Warren Bonesteel sent us this shot of mammatus clouds over Duncan, Oklahoma, on May 20, 2013.  They were taken at about 7:00 p.m. CST, a few minutes after a large supercell storm passed. The same storm system spawned a violent tornado that devastated the nearby city of Moore. While most clouds form in rising air and have flat bottoms, mammatus clouds have pouch-like protrusions caused by sinking air that hang on their undersides.
Mammatus clouds can only form if the sinking air is cooler than the air around it. The sinking air must also have high water or ice content.  Though they are often associated with thunderstorms, the clouds are harmless and usually form in pockets of turbulent air after the worst of a storm has passed. They are not an indicator that a tornado is about to hit. You can learn more about mammatus clouds from  Astronomy Picture of the Day, Earth Science Picture of the Day, AccuWeather, CBC News, EarthSky, and UCAR.
Did you have other dramatic shots of this storm system that you would like to share? Please send them to adam.p.voiland@nasa.gov. I'll add the best of what we receive to this post.
————————————————————————————————————————————————————–
Updates:
The photo below was taken on Sunday May 19, 2013, by Darren Purcell.  It was taken in advance of the storm that hit Norman, Oklahoma.
May 23rd, 2013 by Adam Voiland
On May 22, 2013, GOES-East, a key weather satellite that observes the eastern part of the United States stopped working normally. After initial efforts to revive the satellite failed, National Oceanic and Atmospheric Administration (NOAA) engineers have put the satellite in storage mode for troubleshooting.
Losing one of the two geostationary weather satellites that National Weather Service meteorologists rely upon could have serious consequences at any time, but that is especially true with the 2013 hurricane season just around the corner. Fortunately, NOAA had planned ahead. The agency always keeps a "spare" satellite in orbit, ready to spring into action when problems arise. On May 23, the spare satellite—GOES 14—was active and had started to acquire images.
When GOES-East experienced a similar technical problem in September 2012, we published the image above showing the field of view of all three weather satellites. GOES-15, which has served as GOES-West since December 2011, is on the left and orbits at 135 degrees west longitude; GOES-14, the spare, is in the middle and resides at 105 degrees west. GOES-13, the malfunctioning satellite that has served as GOES-East since April 2010, is on the right and sits at 75 degrees west. The top row of images shows visible images acquired by the three satellites on September 15, 2012. The lower row shows the field of view of each satellite.
You can follow daily status updates on the health of GOES-13 by checking here and here. The latest GOES imagery is available here.
Comments Off on GOES-13 is Down
May 21st, 2013 by Adam Voiland

Each month, Earth Observatory offers up a puzzling satellite image here on Earth Matters. The sixteenth puzzler is above. Your challenge is to use the comments section to tell us what part of the world we are looking at, when the image was acquired, and why the scene is interesting. For instance, what do you think the horizontal line is on the upper part of the image? The tan areas below? The blue-black blotches on the right?
How to answer. Your answer can be a few words or several paragraphs. (Try to keep it shorter than 300 words). You might simply tell us what part of the world an image shows. Or you can dig deeper and explain what satellite and instrument produced the image, what spectral bands were used to create it, or what is compelling about some obscure speck in the far corner of an image. If you think something is interesting or noteworthy, tell us about it.
The prize. We can't offer prize money for being the first to respond or for digging up the most interesting kernels of information. But, we can promise you credit and glory (well, maybe just credit). Roughly one week after a puzzler image appears on this blog, we will post an annotated and captioned version as our Image of the Day. In the credits, we'll acknowledge the person who was first to correctly ID the image. We'll also recognize people who offer the most interesting tidbits of information. Please include your preferred name or alias with your comment. If you work for an institution that you want us to recognize, please mention that as well.
Recent winners. If you've won the puzzler in the last few months, please sit on your hands for at least a few days to give others a chance to play.
May 14th, 2013 by Adam Voiland
"Who'd have thought that five months away from the planet would make you feel closer to people," mused Canadian astronaut Chris Hadfield a few days before his return trip back to Earth. Along with two crew members, the commander of International Space Station Expedition 35 landed safely in Kazakhstan on May 13, 2013, via a Russian Soyuz space capsule.
What a tour it has been. After 2,336 orbits, 62 million miles traveled, Hadfield returns as a rock star of sorts. His recording of a cover of David Bowie's "Space Oddity" quickly went viral this week (6 million+ views and counting). But it's not just his skill with a guitar that has attracted attention. More than anything else, it has been Hadfield's mastery of the camera—and Twitter—that has catapulted him to fame.
Hadfield isn't the first astronaut to tweet from space. Mike Massimino did that in 2009. But the abundance and quality of Hadfield's tweets has set a new standard. He spent several hours per day taking photographs from the Cupola, and with the help of his son Evan (back on Earth) posted the best of them to his feed.
The photos they shared didn't seem to be raw. One of the Hadfields must have been tweaking the brightness and contrast of the images to make them pop. When paired with snappy, heartfelt captions, the photos proved irresistible. Hadfield's online followers skyrocketed from about 20,000 when he went into space to more than 900,000 when he returned.  Many of his images were retweeted thousands of times.
To celebrate the safe return of Expedition 35, I've posted fifteen of my favorites below. Thank you, Commander Hadfield, for the remarkable tour.  And welcome home.
To some this may look like a sunset. But it's a new dawn. pic.twitter.com/iVgyUihqEN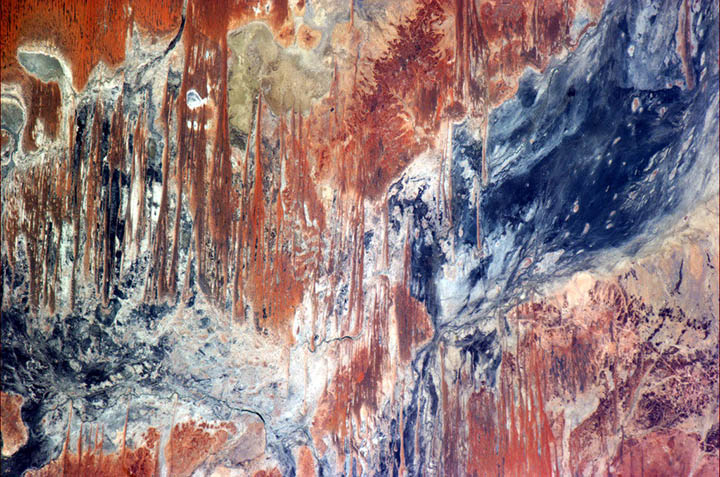 Australia. Jackson Pollock would have been even further inspired by seeing the Outback from orbit. pic.twitter.com/UHtp6lqp
  The Richat Structure. A giant gazing eye upon the Earth. pic.twitter.com/Uqv9JSh17b
When I look at thunderstorms from above, I see faces. What do you see in the clouds? pic.twitter.com/IxSu5XUqGQ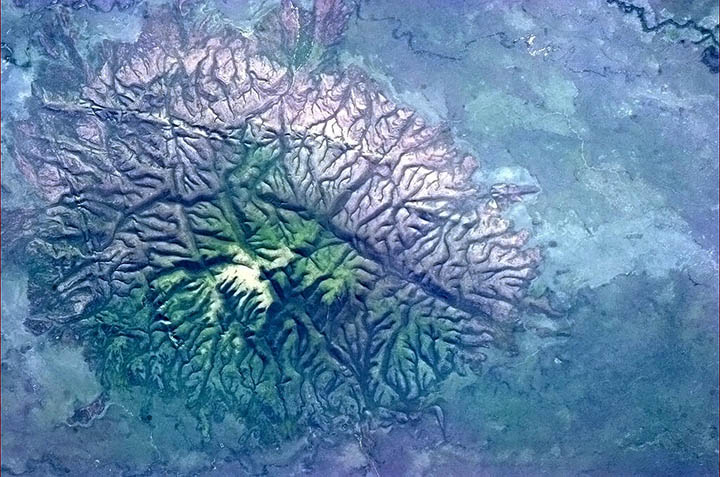 I have no idea what this Brazilian outcrop looks like on the ground, but from orbit, it's a brain. pic.twitter.com/QPRcdRGkov
Same land, different politics. The US – Mexican border, seen from space. pic.twitter.com/rsEnFX0enN
Spaceships glowing blue in the dawn as we leave Florida headed across the Atlantic. pic.twitter.com/GzEoCg2bb5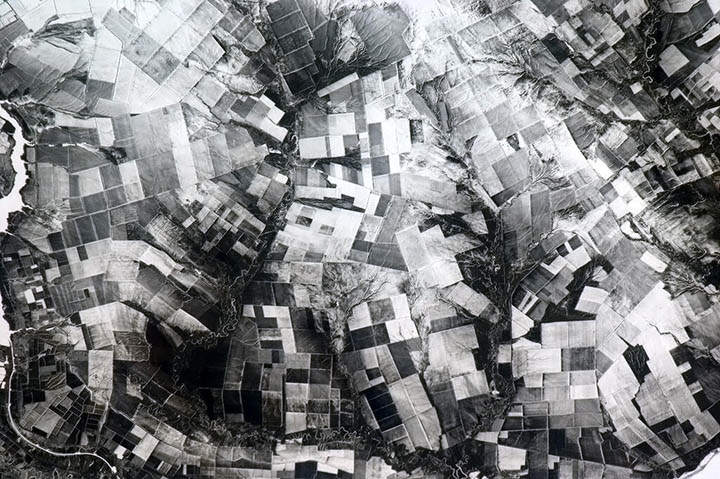 Crazed patchwork of farms in Central Asia, a monochromatic 3D hallucination in the snow. pic.twitter.com/PaKYxOn7fg
Morning jet traffic over San Francisco. pic.twitter.com/xgtLVjDD6G
Our Sun is immensely, unfathomably powerful. pic.twitter.com/j10CCpP6ya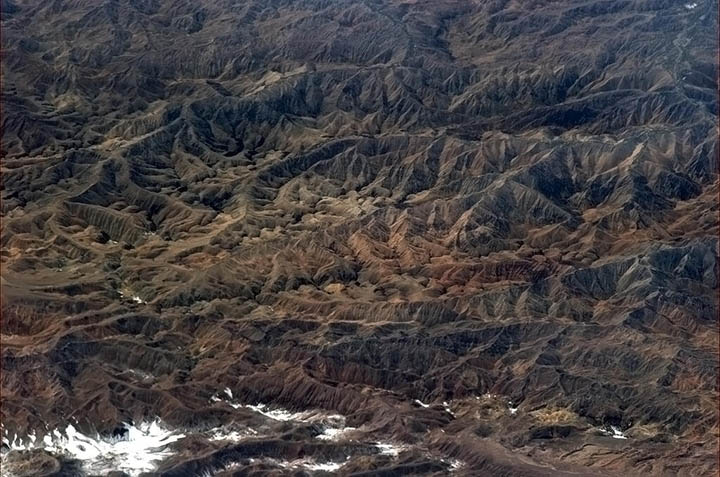 Warm brown textures of the Patagonian Andes. pic.twitter.com/GGKgurSQhk


Seven billion hearts, but I can see only one. #ValentineFromSpace pic.twitter.com/01Lvmkig
Dubai, the Palm Island like a trilobite in the night. pic.twitter.com/RxBHEnSzst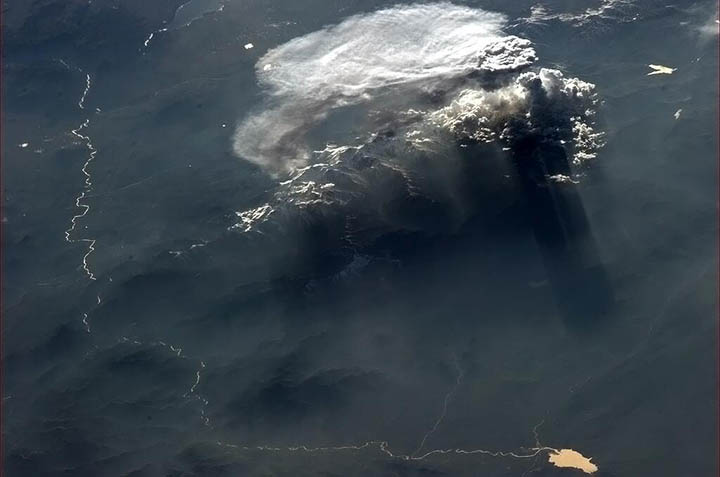 Shadow play of cloud and mountain at sunset. pic.twitter.com/PRggJS7ZOe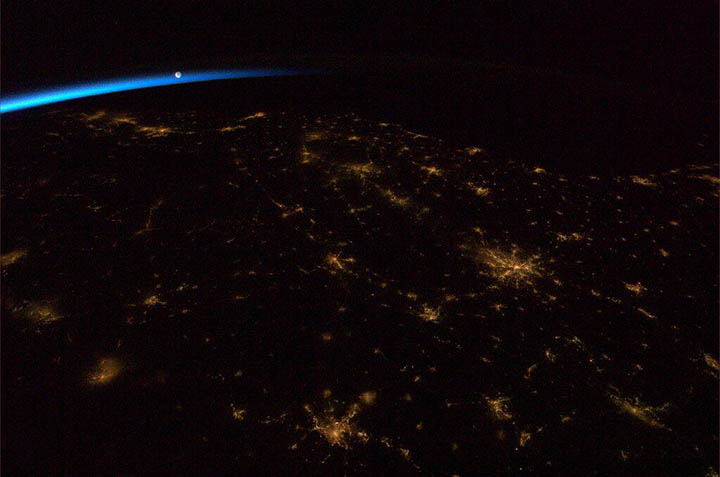 The Moon ushering in the dawn over the Southeastern United States. pic.twitter.com/i3ETfHP79m
May 10th, 2013 by Adam Voiland
Not all of NASA's rovers are headed to Mars. A new Earth science rover nicknamed GROVER started roaming Greenland's ice sheet this week. The autonomous, solar-operated robot carries a ground-penetrating radar that will be used to examine how snow is accumulating on the Greenland ice pack. Its findings could help scientists understand how the massive ice sheet gains and loses ice.
The GROVER team, led by Goddard Space Flight Center glaciologist Lora Koenig, arrived in Summit Camp, the highest spot in Greenland, on May 6, 2013. After loading and testing the rover's radar and fixing a minor communications glitch, tests began on the ice on May 8, in spite of winds that blew up to 23 miles (37 kilometers) per hour and temperatures that were as low as -22 degrees Fahrenheit (-30 degrees Celsius).
The tank-like GROVER prototype stands six feet (two meters) tall, including its solar panels. It weighs about 800 pounds and traverses the ice on two repurposed snowmobile tracks. The robot is powered entirely by solar energy, so it can operate in pristine polar environments without adding to air pollution. The panels are mounted in an inverted V, allowing them to collect energy from the sun and sunlight reflected off the ice sheet.
You can track GROVER's progress by following @NASA_Ice. Read more about GROVER from Climate Central, CBS News, and Discovery News.
Comments Off on Meet GROVER: NASA's Rover in Greenland