February 26th, 2013 by Mike Carlowicz
Our image of the day on February 26 provided a satellite view of how a nor'easter can stir up the New England coast and its waters. Here are a few other views from the storm they called Nemo…
A aerial photo from Kelsey-Kennard Airview shows the new breach in South Beach, just off the town of Chatham, Massachusetts.
WCVB television in Boston surveyed the destruction in the Cape Cod National Seashore. Click here to view.
Beach dunes, parking lots, boardwalks, stairways — along with waterfront homes — took a beating from the storm the media called "Nemo." This YouTube video shows the wreckage at Coast Guard Beach, in Sandwich, and other points on Cape Cod, Massachusetts:
In Truro, the ocean breached the dunes and sent water into the Pamet River:
February 15th, 2013 by Adam Voiland
Around 9:20 a.m. local time on February 15, 2013, a blazing mass of rock from space—a meteor—streaked across the sky over the Ural Mountains in the Chelyabinsk region of Russia. The burning mass produced a loud sonic boom and shock wave that blew out windows in multiple cities and towns. Russian media outlets are reporting hundreds of injuries, most minor, and damage to thousands of buildings.
Bill Cooke, the head of the Meteoroid Environments Office at Marshall Flight Center, said that the object, which likely came from the asteroid belt, had a diameter of about 15 meters (50 feet) and weighed about 7,000 metric tons. When it encountered the top of Earth's atmosphere, it was moving 18 kilometers (11 miles) per second and left a vapor trail that was approximately 480 kilometers (300 miles) long. It lasted in the atmosphere for over 30 seconds before breaking up 25 kilometers (15 miles) above the surface, producing a violent explosion that released about 300 kilotons of energy. Most of the fragments burned up as they passed through the atmosphere, but some meteorites did reach the surface. One reportedly left an impact crater that was 6 meters (20 feet) in diameter.
The SEVIRI instrument on the European Space Agency's Meteosat-10 geostationary weather satellite captured a view (top of this page) of the vapor trail.  Dramatic videos and photos of the incident have also popped up on the internet.
The incident was not related to 2012 DA14, a 45 meter (150 foot) diameter asteroid that was expected to make its closest approach to Earth—17,200 miles (27,000 kilometers)—at 2:25 p.m. EST on Feb 15, 2013. The trajectory of the Russian meteor was significantly different than the trajectory of the asteroid 2012 DA14.
If you would like to learn more about 2012 DA14, tune into NASA Television starting at 2 p.m. EST. For general background about near-Earth objects, see these FAQ's from NASA's Near Earth Object Program.
For more information:
Live Updates from RT
Moscow Times
NASA Press Release
NASA Press Conference
RIA Novosit
Russia Beyond the Headlines
Slate: Bad Astronomer
USGS
February 12th, 2013 by Mike Carlowicz
In digging for news on the nor'easter that whacked New England (and my house in southeastern Massachusetts), I happened upon several compelling images.
Marshall Shepherd, current president of the American Meteorological Society and director of the atmospheric science program at the University of Georgia, tweeted out this annotated version of a Terra MODIS satellite image of the storm aftermath:
It seems that the monumental snowfall highlighted some land features of New England, including its longest river, one of the largest manmade reservoirs in the United States (Quabbin), and the scar of a vicious tornado.
EarthSky published a map of snowfall totals compiled by the National Weather Service Hydrometeorological Prediction Center. About 35 to 40 million Americans live within that snowy bullseye.
Finally, our colleague Jeff Schmaltz on the LANCE/MODIS Rapid Response team noticed that while the skies cleared over New England and the Canadian Maritimes on February 10, cloud streets lined up offshore.
Cloud streets form when cold air moves over warmer waters, while a warmer air layer (or temperature inversion) rests over the top of both. Read more here from my fellow Earth Observatory writer Adam Voiland.
By the way, I am not buying into this idea of naming winter storms. I certainly won't let it spoil my fondness for Nemo, both the movie and book characters. How do you feel about this idea of naming winter storms?
February 12th, 2013 by Mike Carlowicz
Each month, Earth Observatory offers up a puzzling satellite image here on Earth Matters. The ninth puzzler is above. Your challenge is to use the comments section to tell us what part of the world we're looking at, when the image was acquired, and why the scene is interesting.
How to answer. Your answer can be a few words or several paragraphs. (Try to keep it shorter than 300 words). You might simply tell us what part of the world an image shows. Or you can dig deeper and explain what satellite and instrument produced the image, what spectral bands were used to create it, or what is compelling about some obscure speck in the far corner of an image. If you think something is interesting or noteworthy, tell us about it.
The prize. We can't offer prize money for being the first to respond or for digging up the most interesting kernels of information. But, we can promise you credit and glory (well, maybe just credit). Roughly one week after a puzzler image appears on this blog, we will post an annotated and captioned version as our Image of the Day. In the credits, we'll acknowledge the person who was first to correctly ID the image. We'll also recognize people who offer the most interesting tidbits of information. Please include your preferred name or alias with your comment. If you work for an institution that you want us to recognize, please mention that as well.
Recent winners. If you've won the puzzler in the last few months, please sit on your hands for at least a few days to give others a chance to play.
You can read more about the origins of the satellite puzzler here. Good luck!
February 7th, 2013 by Adam Voiland
Many wildfires burn unnoticed in remote forests and grasslands, far from major population centers. Satellites detect the majority of them, but in many cases, images of the fire from the ground are scarce.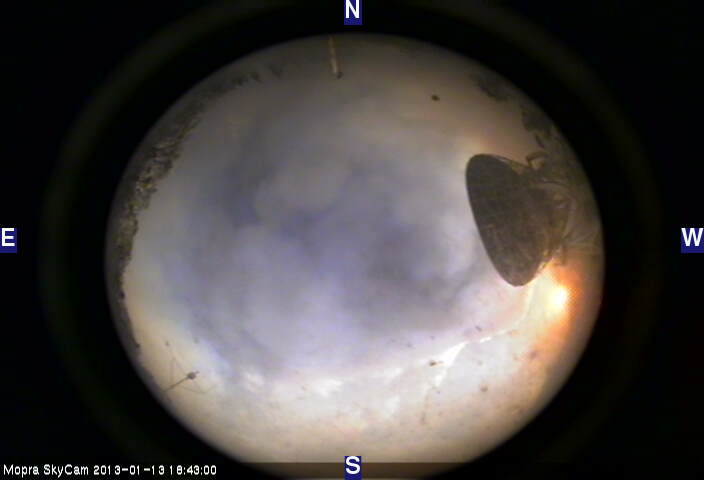 Not so for an Australian bushfire  in January 2013 that passed through the campus of Siding Spring Observatory in New South Wales. The world-class astronomy facility houses numerous powerful telescopes. They're designed to peer out into space, but webcams on a few of the telescopes captured remarkable images of smoke billowing and flames blazing. See, for instance, the all-sky view from the MOPRA SkyCam shown above.
Other webcams around the observatory were also capturing images as the fire raged nearby. The video below, a time lapse of webcams compiled by Las Cumbres Observatory Education Director Edward Gomez, offers a remarkable perspective on the blaze. For more, on-the-ground coverage of the fire, see the Astropixie blog.
Comments Off on Keeping an Eye on the Fire at Siding Spring Observatory