December 24th, 2012 by Adam Voiland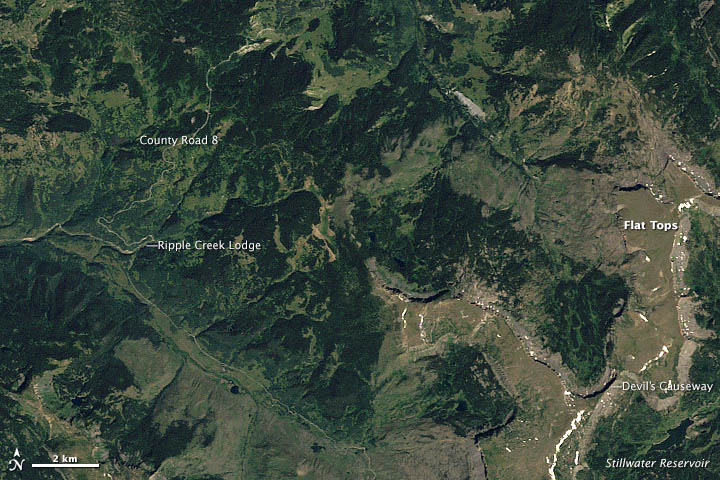 Congratulations to Alan for being our first reader to work out that the December puzzler showed an area near the Flat Tops in northwestern Colorado. Alan recognized that the treeless regions in the lower right were plateaus and pinpointed the location on December 19, even pointing out Devils Causeway. Meanwhile, other puzzler players — notably Angie Connelly and Bill Butler — weighed in with interesting details about the type of rock (basalt) that makes up the plateau and the impact that a recent fire had on vegetation in the area.
It's worth noting that the image does not show the Great Wall of China, which was the most common answer we received. It's a popular myth that the Great Wall is one of only human-made structures visible from space. As this NASA story explained in 2005 and this Scientific American story detailed in 2008, the Great Wall is quite difficult for astronauts (either in orbit or on the moon) to see because there isn't enough contrast between the color of the wall and the surrounding vegetation.
Sensors on Earth-observing satellites can detect the Great Wall more readily than the human eye, but it isn't easy to distinguish the structure even in images from the higher-resolution sensors in NASA's fleet. The Advanced Spaceborne Thermal Emission and Reflection Radiometer (ASTER) instrument on NASA's Terra statellite, which has a 15-meter spatial resolution, acquired the image below of the wall in the winter of 2001. At the time, a low sun angle and light snow cover helped highlight a section of the wall in Shanxi Province.

Ronald Beck, a program information specialist for the Landsat program told Scientific American that the wall is visible to Landsat as well, but only under certain weather conditions. "We have satellite images where snow covers the fields near the wall and snow has been cleared on the wall, and that allows us to see the wall," he said. "The key is contrast."
Commercial satellites, operated by companies such as GeoEye, offer the clearest view of the Great Wall from space. A sensor with half-meter resolution on the GeoEye-1 satellite acquired the image below on June 20, 2009.  If you're interested in seeing how sensors on  various Earth-observing satellites compare, here's a useful list categorized by their spatial resolution.
On December 22, we published a caption that provides more details about the Flat Top mountain scene. In addition to being a location with noteworthy geology, the image shows the part of White River National Forest where park rangers harvested the 2012 U.S. Capitol Christmas tree. The videos below explain more about how the tree was selected, transported, and decorated.
Comments Off on December Puzzler Answer
December 17th, 2012 by Adam Voiland
Every month, NASA Earth Observatory will offer up a puzzling satellite image here on Earth Matters. The seventh puzzler is above. Your challenge is to use the comments section below to tell us what part of the world we're looking at, when the image was acquired, and why the scene is interesting.
How to answer. Your answer can be a few words or several paragraphs. (Just try to keep it shorter than 300-400 words). You might simply tell us what part of the world an image shows. Or you can dig deeper and explain what satellite and instrument produced the image, what bands were used to create it, and what's interesting about the geologic history of some obscure speck of color in the far corner of an image. If you think something is interesting or noteworthy about a scene, tell us about it.
The prize. We can't offer prize money for being the first to respond or for digging up the most interesting kernels of information. But, we can promise you credit and glory (well, maybe just credit). Roughly one week after a "mystery image" appears on the blog, we will post an annotated and captioned version as our Image of the Day. In the credits, we'll acknowledge the person who was first to correctly ID an image. We'll also recognize people who offer the most interesting tidbits of information. Please include your preferred name or alias with your comment. If you work for an institution that you want us to recognize, please mention that as well.
Recent winners. If you've won the puzzler in the last few months, please sit on your hands for at least a few days to give others a chance to play.
You can read more about the origins of the satellite puzzler here. Good luck!
December 17th, 2012 by Adam Voiland
The answer we had in mind for our November puzzler was fog in Argentina's, Lake District. The exact coordinates were -40° 24′ 50.47″, -71° 22′ 59.14."   We had a number of players who came quite close — including Stuart Grice, and David P , and Michael Osborne — but no one got the exact coordinates, province, or district.  The November puzzler, in fact, was our first puzzler that didn't get solved down to the GPS coordinates within a few minutes or hours of posting.
I won't deny that we were initially pleased that we had stumped some of the remote sensing pros who play the puzzler.  But after the euphoria wore off, we found ourselves wondering: is it unfair to pick an obscure patch of mountains or sea and expect people to find it?
This latest puzzler got a few of us at the Earth Observatory thinking: what constitutes a correct answer, particularly when an image doesn't show a discrete, obvious occurrence or place like the Çöllolar mine collapse  or the Russian city of Dudinka?  We thought it over and came up with these tips.
1) Being specific helps.  Providing us with exact coordinates doesn't hurt — in fact, it helps a lot.  We will always recognize the first player who sends us the correct coordinates.
2) But this is an open-ended puzzler. We're just as interested in having you teach us something interesting about a particular feature — a certain rock formation, cloud type, or whatever — as we are in simply getting inundated with coordinates. In fact, going forward, we're going to  recognize at least one puzzler player who goes beyond simply giving us the coordinates. This also mean you can continue posting answers even after somebody has guessed the coordinates.
3) Have fun.  We take our science and remote sensing seriously, but one of the reasons we started the puzzler was to simply share the wonder and joy of looking at this planet that we're lucky to call home. We wanted to give you the opportunity to have as much fun learning and writing about the Earth as we do. Don't be shy about teaching us and your fellow readers something new and unexpected.  Tell us about the adventures you've had traveling to a location.  Maybe even tell a joke or share an interesting video. We're not above awarding "style" points.
4) Post your answers on the blog.  When we started the puzzler, we thought it would work to have players post their comments on facebook, twitter, google+, and the various other social media feeds.  But after receiving hundreds of comments on disparate sites, we've learned there are simply too many for us to monitor (while trying to do our day jobs). You're welcome to react and discuss puzzler images on the various NASA social media feeds, but from now on we will only select winners from the comments posted on the Earth Matters blog.
Good luck!
December 10th, 2012 by mscott
On December 5, 2012, the National Oceanic and Atmospheric Administration (NOAA) released its annual Arctic Report Card, covering late 2011 through late 2012. The report listed a number of significant events in a record-breaking and sometimes sobering year.
One of the biggest stories was the record-low sea ice extent in the Arctic Ocean. Arctic sea ice shrinks and grows every year, typically reaching its minimum in September. The last decade, however, has seen a series of below-normal extents, with new records set in 2002, 2005, 2007, and 2012. By mid-September 2012, Arctic sea ice had dropped to 3.41 million square kilometers (1.32 million square miles), which was significantly below the 2007 record of 4.17 million square kilometers (1.61 million square miles). (See Visualizing the 2012 Sea Ice Minimum for prior Earth Observatory coverage of this event.)
NOAA data for high latitudes during June indicated that snow cover extent has declined by 17.6 percent per decade—an even faster rate of decline than the sea ice extent. From June 2008 to June 2012, North America experienced three record-low snow cover extents, and Eurasia experienced five straight record lows.
The summer of 2012 also brought widespread melting on the Greenland Ice Sheet. An estimated 97 percent of the ice surface was melting at some point on July 11–12. July 2012 also brought an unusually high melt index—calculated by multiplying the number of days when melt occurred by the area that melted. Compared to the 1979–2012 average, the 2012 melt index was +2.4, nearly twice the previous melt index record set in 2010. (See Satellites Observe Widespread Melting Event on Greenland for prior Earth Observatory coverage of this event.)
The Greenland melting was linked to a drop in albedo—the amount of sunlight reflected back into space—on the ice sheet in 2012. A drop in albedo can set up a feedback loop; as the ice surface melts, it grows darker, absorbing more sunlight and melting more ice.
Other highlights of the 2012 Arctic Report Card include an increase in the length of the high-latitude growing season, record-high permafrost temperatures, a giant phytoplankton bloom under the ice in the Chukchi Sea, the threat of extinction to the Arctic fox, and severe weather events. (including a strong storm off Alaska and a strong summer storm over the Arctic.)
Reflecting on the year's events, Mark Serreze, director of the National Snow and Ice Data Center, remarked: "The year 2012 was nature's kick in the pants. Arctic sea ice and snow cover were at record lows and nearly the entire Greenland ice sheet saw surface melt. Climate change is here and Mother Nature is giving us a stern warning of bigger changes to come."
For more information, see NOAA ClimateWatch Magazine, which offers report card highlights.