As part of Earth Science Week, various NASA scientists and staff have been writing and talking about what it is like to work in science. One of those staff members is our colleague, Jefferson Beck, a documentary producer turned NASA science communicator…
So I'm flying at 1,500 feet above a giant crack in the Pine Island Glacier. By "giant" I mean up to 800 feet across, deeper than the Statue of Liberty, and 18 miles long.  I'm in a NASA DC-8 aircraft with Operation IceBridge, the first airborne mission to take detailed measurements of such a massive calving event in progress.  If this chunk of the Antarctic ice shelf splits off and floats away as one big piece, it will be the size of New York City. 
As the video producer assigned to this mission, I'm trying to make the most out of the few moments where the scenery isn't just impressive, but truly stunning.  My stomach is tight with excitement and worry that I'll miss the best shots.  I have one camera set up recording a time-lapse out one window, and I'm holding another camera against another window. I'm bracing myself with a ratty piece of foam against the fuselage and trying to find a clear spot among the window's many scratches as the plane bounces along.  The Crack looms large for a while, then quickly fades from sight and gets lost in the whiteness.
After we finish our flight lines, we bank out over the razor-sharp edge where the ancient Antarctic ice meets the dark water.  We start to gain altitude for the long flight back to Punta Arenas, Chile, a port city on the Strait of Magellan.  As we climb, I think about how few people have gotten to see the frozen continent from this perspective.  Then I look around at the amazingly talented group of people on board, and think: "how did I wind up here?"
You'd think that most people who work at NASA are numerical geniuses who spent their high school years building robots and answering math problems for fun.  And we do have people like that.  We also have people who could rebuild an engine when they were 14 and people who had their pilot's license at 17.
But for me, high school was many things and the path was not always clear.  High school was cross country and track, the school newspaper, reading lots of science fiction, smudging my way through art classes, dropping an essay-writing class to have double-lunch with my girlfriend, struggling a bit with math, and really enjoying most of my science courses.
My continuing issues with math — and, as it turned out, chemistry — didn't stop me from becoming a biology major in college. There I focused on ecology and natural history.  After that, my plan was to become a biologist, so for a while I ended up in Alaska standing in frozen streams and counting wild salmon.  I loved being in the field and I loved the natural world, but slowly the idea of being a research scientist began to fade.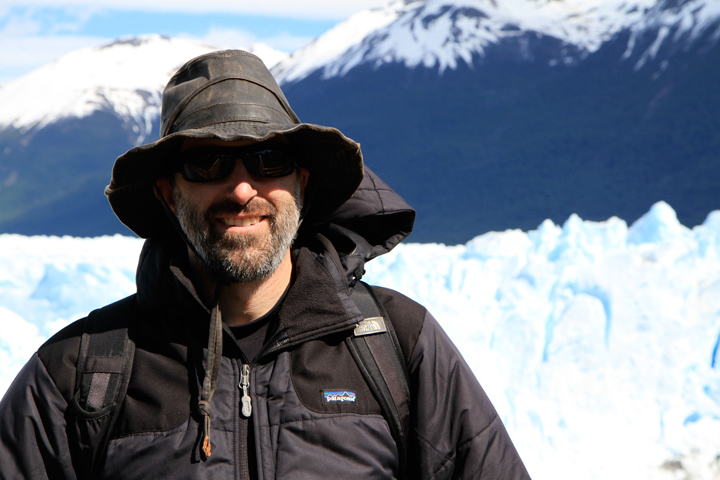 Not knowing what to do next, I went back home to Ohio.  I couch-surfed for a while before landing a job as a reporter for a small-town newspaper.  Then I helped build a local bike trail, did some reporting for radio, and then got involved with non-profit community-building work.  For a while, I was a bouncer in a bar one night a week.  Finally, I landed in filmmaking.  I took some film classes, worked on a couple of indie features, and made some little films of my own.
It all kind of looks like a jumbled mess, doesn't it?  It doesn't make you think, "well, here's a guy who is destined for NASA."  It's what career-minded people call "lateral moves," jumping sideways from one career track to another without much advancement – the kinds of moves that make some parents scratch their heads and start to worry.
But all that experience led me to finally apply to a grad school program in science and nature filmmaking at Montana State University.  I got accepted, and later got my job at NASA, because I was able to tell a story – a true story – using the skills I had gained from all those lateral moves.  I could write, manage a project, understand scientists, recognize news, work in the field, dig deep and endure adversity [claiming this one from my 10 years running cross country and track], and make a video.
So my take home message is this:  If you're one of those focused people who know exactly what they want to do and head straight for it, fantastic.  One day you'll be flying the plane I'm riding in, designing one of our satellites, or sending us to Mars.  And I'll be grateful for your skills.  But if your career path wanders, don't worry.  If you keep learning as you go, one day it will make for a very interesting true story.
This month I'm heading back to Chile, and back to flying at 1,500 feet over the Antarctic ice, and maybe even back to the Pine Island Glacier, which finally seems ready to give up its New York City-sized chunk of ice.   Wherever we fly, it will be exciting.  And difficult, and beautiful, and scientifically valuable.  There will be a lot of true stories out there, and I'll do my best to bring them home.
Watch Jefferson's video: Flying through the Rift: An update on the crack in the Pine Island Glacier.
Learn more about other Earth Explorers like Jefferson on the NASA Earth Science Week website.