Study: Quickening Water Cycle Fueling Extreme Weather
There's been no shortage of extreme weather in recent years, from flooding in Australia to record-breaking temperatures in North America to wildfires in Russia. A new study published in Science argues that at least some of the blame should go to global warming for accelerating the water cycle. By measuring changes in the salinity of the ocean's surface, the authors conclude that the water cycle has sped up by 4 percent over the last half century. The research is based on data from ships and a network of floating Argo sensors, not satellite data. However, NASA's newly-launched Aquarius satellite will likely provide better global salinity estimates in the coming years. In other extreme weather news, a new poll found that two-thirds of Americans believe global warming is exacerbating severe weather and a new video (above) from the Yale Forum on Climate Change tackles the subject as well.
Welcome to the Earth-observing Club, Risat-1
On April 26, India's space agency successfully launched Risat-1, an Earth-observing satellite carrying a synthetic aperture radar system. Though it's been called a spy satellite, Risat-1 will more likely be used to monitor the health of forests and agriculture and to predict natural disasters, according to Space Daily. Risat's radar is capable of collecting images in all weather conditions and can "see" through tropical clouds and rain showers; it can also image the Earth at night. India currently has 11 Earth-observing satellites in orbit. The Canadian RADARSAT SAR, Europe's Envisat (which recently went AWOL), and the Space Shuttle have flown similar instruments in the past.
Helmets for Severe Weather Week?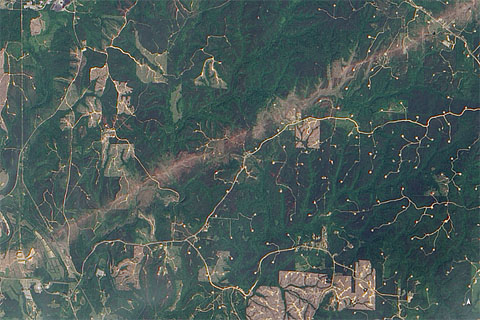 Around this time last year, fierce storms barreled through the central and southern United States, spawning more than 300 tornadoes that took hundreds of lives. This year, tornadoes have already killed 63 people (more than 100 tornadoes ripped through several Plains states just a few weeks ago), but tornado season hasn't even hit its peak yet. Due to a lack of data, it's up for debate whether climate change is fueling such outbreaks. Regardless of the cause, NOAA and FEMA are sponsoring the first ever severe weather preparedness week in an effort to limit the death toll of future storms. Meanwhile, NPR ran an interesting story that questions why the Centers for Disease Control and Prevention recommends people use their hands rather than helmets to protect their heads during twisters.

Study Suggests Chinese Dam and Earthquake are Linked

A disastrous 7.9 earthquake struck Wenchuan, China, in 2008, killing 80,000 thousand people. Ever since, many scientists have wondered whether the quake may have been triggered by the construction of nearby Zipingpu Dam, which put 900 million tons of water on top of the fault that was at the epicenter of the quake.  Some scientists believe the pressure from the reservoir could have pushed water into the fault, lubricating and weakening it enough to cause it to slip. Though the topic remains controversial, a new article in Science reviews new evidence that suggests the dam and earthquake were linked.

Nepal Gets a New Tool for Monitoring Wildfires
In the last few days, hundreds of fires have burned across the southern belt of the  Hindu-Kush Himalayan region. The MODIS instrument on NASA's Aqua satellite captured this view of the burning on April 24. Should you be interested in monitoring Nepalese wildfires, the International Center Integrated Mountain Development just released a pilot version of a new monitoring system based on MODIS data. Go here to check it out.
Next Stop: The Arctic Circle
Operation IceBridge, NASA's multi-year mission that maps polar ice, has passed the mid-point of its current mission to the Arctic.  You can visit this page for more details and follow along on the IceBridge blog.

Note: Click on the images for larger views and crediting information.