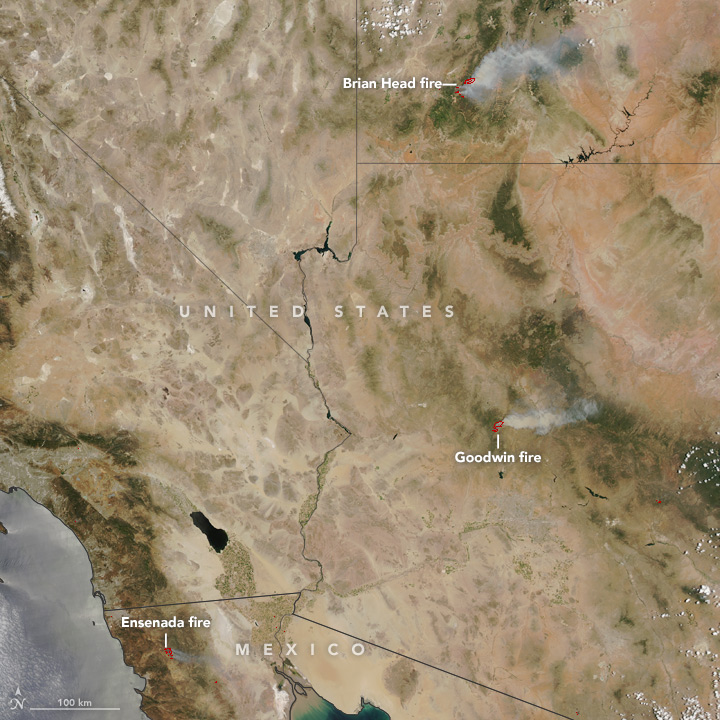 acquired June 27, 2017
download
large image (5 MB, JPEG, 3200x4200)
acquired June 27, 2017
download
GeoTIFF file (38 MB, TIFF, 3200x4200)
On June 27, 2017, the Moderate Resolution Imaging Spectroradiometer (MODIS) on NASA's Aqua satellite captured this natural-color image of fires in the southwestern United States. They include the Brian Head Fire in Utah, which has consumed more than 50,000 acres of trees and brush, and the Goodwin Fire in Arizona, which has burned more than 20,000 acres.
High temperatures have been credited as one factor that caused the fires to spread. In Prescott, Arizona, temperatures topped 100 degrees Fahrenheit (38 Celsius) during the recent heat wave. The area has been dry as well as hot, with the last rainfall in late May, according to local reporting. Areas south of the border have seen flare-ups too, with a sizable fire near Ensenada, Mexico.
NASA image by Jeff Schmaltz, LANCE/EOSDIS Rapid Response. Caption by Pola Lem.
Instrument(s):

Aqua - MODIS
July 5, 2007
May 2, 2013

June 23, 2005
June 24, 2003
June 21, 2006