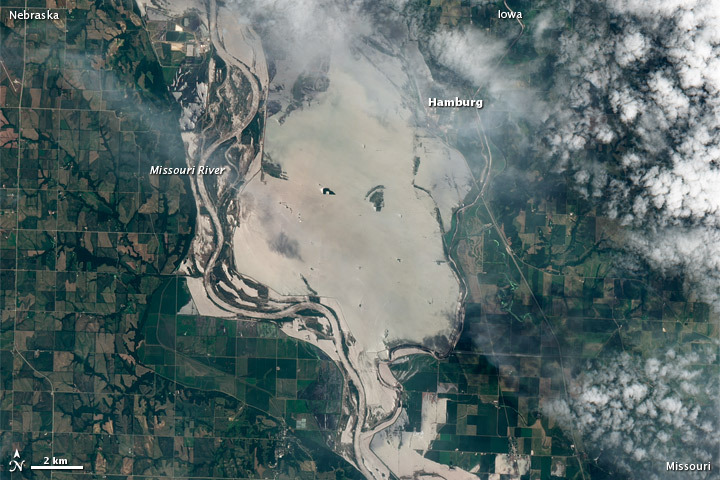 acquired June 24, 2011
download
large image (4 MB, JPEG, 3785x4877)
On June 13, 2011, the Missouri River broke through two levees, sending flood water over agricultural fields near the town of Hamburg in southwestern Iowa. The Advanced Land Imager (ALI) on NASA's Earth Observing-1 (EO-1) satellite captured this natural-color image on June 24, 2011. This scene shows flood water over a larger area than on June 14.
Muddy water covers tens of square kilometers east of the Missouri River, and few fields or structures poke above the flood. Clouds partially hide Hamburg, which rests on the edge of the flooded agricultural land. On June 13, the Associated Press reported that the U.S. Army Corps of Engineers was adding another three feet to a secondary levee designed to shield Hamburg from floods.
On June 29, 2011, the Advanced Hydrological Prediction Service (AHPS) reported major flooding on the Missouri River at Nebraska City to the northwest and Brownville to the south.
References

Associated Press. (2011, June 13). Two Missouri River levees break. CBS News. Accessed June 29, 2011.
KETV. (2010, June 14). Two Missouri River levees fail. Accessed June 29, 2011.
National Weather Service. Advanced Hydrologic Prediction Service. Accessed June 29, 2011.
NASA Earth Observatory image created by Robert Simmon, using EO-1 ALI data provided courtesy of the NASA EO-1 team. Caption by Michon Scott.
Instrument(s):

EO-1 - ALI
July 17, 2011
June 19, 2010
June 27, 2011
August 1, 2011
August 17, 2011