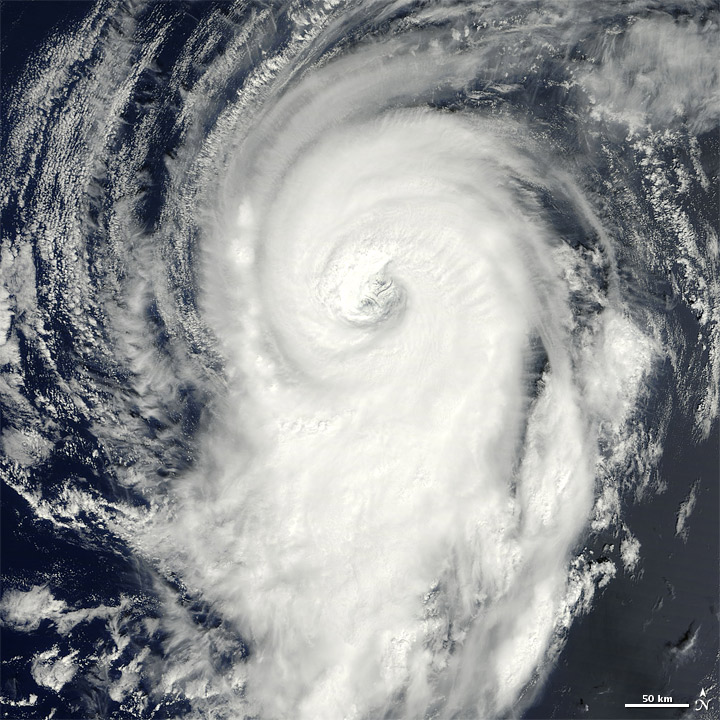 acquired September 9, 2012
download
large image (5 MB, JPEG, 5000x6400)
acquired September 9, 2012
download
GeoTIFF file (51 MB, TIFF)
acquired September 9, 2012
download
Google Earth file (KMZ)
By September 9, 2012, Hurricane Michael's wind speeds dropped from what they were two days earlier. A Category 1 hurricane, Michael had maximum sustained winds of 90 miles (150 kilometers) per hour on September 9. The U.S. National Hurricane Center (NHC) reported that Michael was located roughly 955 miles (1,535 kilometers) west-southwest of the Azores.
On September 9, the Moderate Resolution Imaging Spectroradiometer (MODIS) on NASA's Terra satellite captured this natural-color image. A fairly compact storm compared to nearby Tropical Storm Leslie, Michael nevertheless sported the spiral shape and distinct eye common in hurricanes.
By September 10, Michael's wind speeds had dropped further, to 80 miles (130 kilometers) per hour. The storm was headed west, but was expected to turn toward the northwest overnight and weaken further. No coastal watches or warnings were in effect.
References

National Hurricane Center. (2012, September 10) Hurricane Michael Advisory Archive. Accessed September 10, 2012.
NASA image courtesy Jeff Schmaltz, LANCE MODIS Rapid Response Team, Goddard Space Flight Center. Caption by Michon Scott.
Instrument(s):

Terra - MODIS
September 24, 2012
June 23, 2010
September 7, 2012
June 22, 2010

July 8, 2012