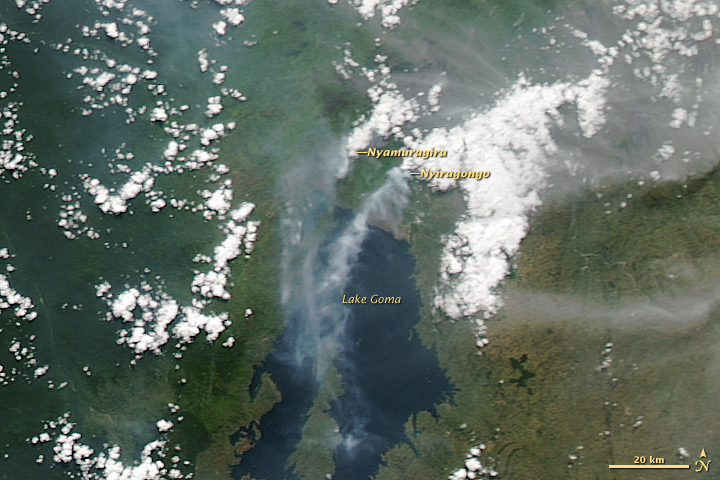 acquired July 5, 2012
download
large image (302 KB, JPEG, 800x1000)
acquired July 5, 2012
download
GeoTIFF file (1 MB, TIFF)
acquired July 5, 2012
download
Google Earth file (KMZ)
[Note: Dario Tedesco, a scientist at the Goma Volcanological Observatory, recently flew over Nyiragongo to check for signs of increased activity. He did not see any ash or abnormal emissions. The volcano was behaving much as it has for the past ten years. His observations are a reminder that remote sensing is a powerful tool, but it is most useful when combined with direct measurements and local knowledge.]
Africa's Mount Nyiragongo—one of the few volcanoes with a permanent lava lake—recently experienced a surge in activity. Since July 3rd, the Toulouse Volcanic Ash Advisory Center (VAAC) reported a series of ash plumes up to an altitude of 18,000 feet (5,500 meters), which is about 6,500 feet (2,000 m) above the volcano's 11,384-foot (3,470 m) summit. Nyiragongo frequently emits sulfur dioxide, but ash emissions are unusual. This natural-color satellite image shows emissions streaming southwest from Nyiragongo, with an additional plume from nearby Nyamuragira. This image was acquired by the Moderate Resolution Imaging Spectroradiometer (MODIS) aboard the Aqua satellite on July 5, 2012.
Reference

Toulouse Volcanic Ash Advisory Center. (2012, July 5). VA Advisory. Accessed July 5, 2012.
NASA image courtesy Jeff Schmaltz, LANCE MODIS Rapid Response Team, GSFC.
Instrument(s):

Aqua - MODIS
May 21, 2015
May 4, 2010

March 30, 2009
August 3, 2008
May 11, 2010