Natural Color
acquired January 1, 2011
download
large Natural Color image (3 MB, JPEG, 2000x3000)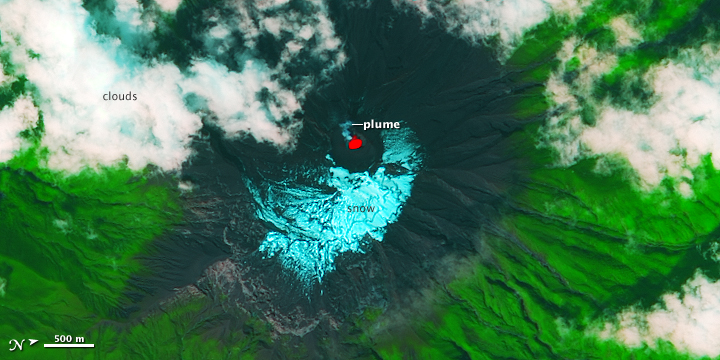 False Color
acquired January 1, 2011
download
large False Color image (4 MB, JPEG, 2000x3000)
According to Ecuador's Instituto Geofisico, the Tungurahua volcano was active throughout the last weeks of 2010, with reports of ashfalls on towns near the volcano and explosions that sounded like cannons. Steam and ash plumes were observed rising as high as 11 kilometers (36,000 feet) above sea level.
These two images show Tungurahua as observed by the Advanced Land Imager (ALI) on NASA's Earth Observing-1 (EO-1) satellite on January 1, 2011. The top view is a natural color image, while the bottom is enhanced with shortwave and near-infrared wavelengths. Both show a small plume wafting up from the snow-capped summit through a break in the clouds. The shortwave infrared better discriminates between the plume and clouds, while showing the heat coming from the summit caldera.
Tungurahua is one of the most active volcanoes in Ecuador. The last major eruption took place between 1916 and 1918, with minor activity for several years thereafter. The volcano's location is frequently cloudy, so clear satellite views of the volcano are not common.
References

Global Volcanism Program. (2010, December 28). Smithsonian/USGS Weakly Volcanic Activity Report 22 December–28 November 2010. Accessed January 3, 2011.
NASA Earth Observatory image created by Jesse Allen, using EO-1 ALI data provided courtesy of the NASA EO-1 team and the United States Geological Survey. Caption by Jesse Allen.
Instrument(s):

EO-1 - ALI
February 11, 2010
March 6, 2014
December 4, 2010
March 6, 2009
May 5, 2008