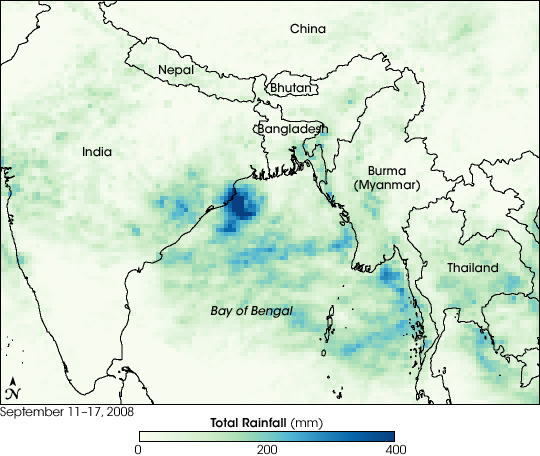 acquired September 17, 2006
download
large image (114 KB, JPEG, 540x456)
A concentrated circle of blue hangs of the northwestern Bay of Bengal and eastern India indicating where the Tropical Rainfall Measuring Mission (TRMM) satellite recorded heavy rain between September 11 and September 17, 2008. A tropical storm, named simply Tropical Storm Two, formed over the region on September 16, and moved ashore over Orissa between September 16 and September 17. The intense rain from the storm combined with seasonal monsoon rains to swell the Mahanadi and other rivers throughout Orissa.
The floods, which officials called the worst in 50 years, put nearly 1,850 villages under water, said BBC News. As of September 23, the floods had killed 29 and affected more than four million people and destroyed more than 400,000 hectares of paddy crop in Orissa, reported the Indo-Asia News Service.
TRMM recorded the rainfall with its precipitation radar, the first space-based rainfall radar. TRMM, a joint mission between NASA and the Japanese Space Agency, JAXA, was designed to monitor rainfall in the tropics.
NASA image by Jesse Allen, using near-real-time data provided courtesy of TRMM Science Data and Information System at Goddard Space Flight Center. Caption by Holli Riebeek.
Instrument:

TRMM