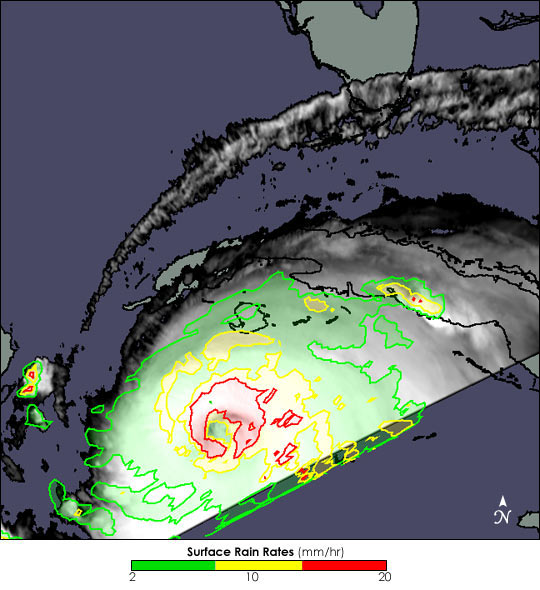 acquired September 13, 2004
download
large image (318 KB, JPEG, 648x648)
The Tropical Rainfall Measuring Mission (TRMM) satellite flew over Hurricane Ivan as the storm struck several islands in the Caribbean between September 8 and September 13, 2004. Three times during its voyage through the Caribbean, Ivan reached Category 5 on the Saffir/Simpson scale, the strongest possible category. Ivan is the first Category 5 hurricane in the Caribbean since Mitch in the 1998.
In the above image, the shades of gray show the cloud height with white indicating the highest clouds. Colors contours indicate the surface rainfall rate. A sequence of TRMM overflights shows the persistence of Hurricane Ivanís strong eyewall. The eyewall survived the encounter with Jamaica on September 11, and developed into a double eyewall as Ivan struck Grand Cayman Island on the following day. The eyewall remained strong as the northern rainband struck Cubaís Isle of Youth on September 13. A well organized eyewall is frequently a sign of an intense hurricane.
TRMM is a joint mission between NASA and the Japanese Aerospace Exploration Agency (JAXA).
NASA image and caption courtesy Owen Kelley, NASAís Tropical Rainfall Measuring Mission at Goddard Space Flight Center.
Instrument(s):

TRMM
September 9, 2004
September 15, 2004

September 10, 2004
September 9, 2004
September 15, 2004